If we valued this procrastination program based on the results alone, you'd easily pay $1500 or more.
Remember that life in months calendar from before?
Just think about all the time you've spent NOT doing the things that were most important, most profitable and most success driving…you can actually attribute a dollar figure to your procrastination!
Procrastination Crushes Earning Potential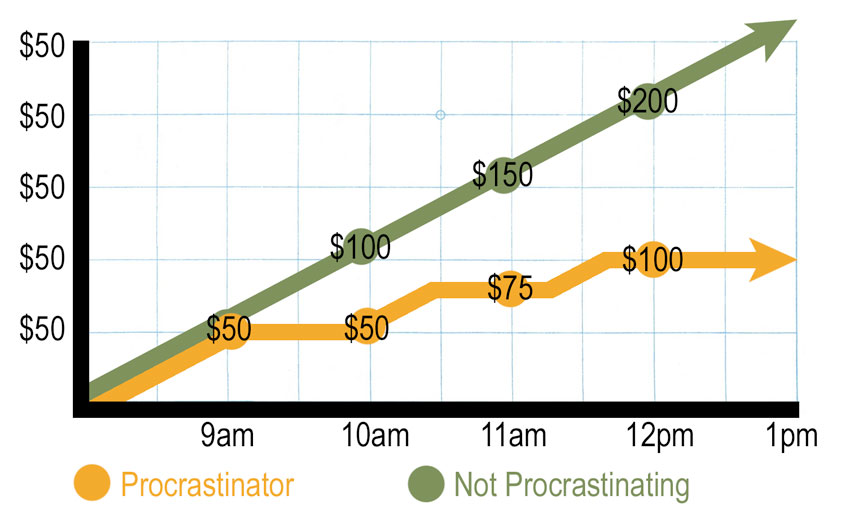 When you suffer from habitual procrastination you're letting yourself down in a multitude of ways, and leaving a whole lot of potential income and success in the path of destruction. The cost of Procrastination adds up especially when you also consider what it does to your personal identity:
When you don't write that book because you are afraid no one really cares about your story when in fact, many would care.
What about being too afraid to start that business you have been thinking about what's the real cost of that?
What's the impact of procrastinating leaving that job or relationship that no longer serves you? Is that the person you want to be?
Is that the person you want to be?
So let's turn this around.
Imagine Your Life After You've Removed Procrastination
Wake up every day and know you won't let anything pull you off track when it comes to your most important projects, tasks and goals.
No more wasting time on Netflix binges watching shows you really don't want to watch. Losing hours of your life with cat videos, playing endless hours of solitaire, and maybe even that too-spotless kitchen where all of your spices are alphabetized will be gone from your life. Instead of hearing the siren song of social media, you'll be pulled towards achieving your goals and dreams. You'll work on that novel you've been planning, or finally take those Spanish lessons.